Table of Programs
Kasana Children's Center
New Hope Ugandaís Kasana Childrenís Centre was established in 1988 in the heart of the Luweero Triangle with the purpose of "bringing the fatherhood of God to the fatherless." Currently, over 50 Ugandan, North American, and British staff daily and practically demonstrate the Fatherís love to abandoned and orphaned Ugandan children. While over 120 children live on site, more than 200 orphaned children living with relatives or obliging neighbors in the surrounding villages join the boarding students each day in receiving a Christ-centered education, food, clothing, discipleship, and love.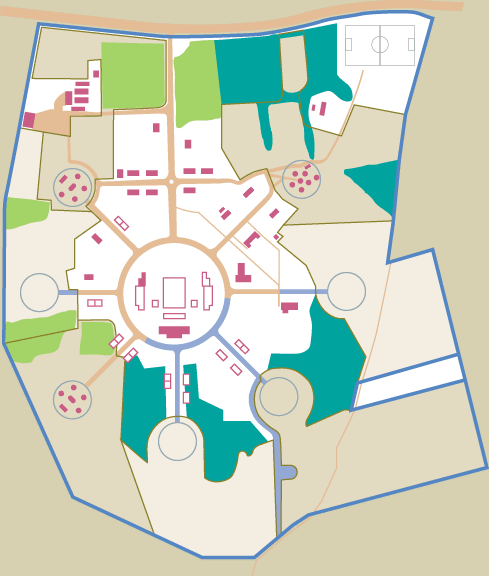 On the centerís main site, the 120 boarding students are divided into seven families each living in their own "village" with their own new "father" and "mother" (Ugandan staff members who become parents to these formerly fatherless children.) In addition to the seven family villages, the main site also serves as the home of all of the centerís staff, a clinic, Hope House (a home for abandoned babies), Esuubi Eppya Primary Vocational School, New Hope Academy (a secondary school), Kasana Community Church, and New Hope Institute for Childcare and Family.



Kasana Child-Care Institute
The Course
In a four month course of lectures, study, and practical handson experience, New Hope Institute of Childcare and Family will give you a foundation from which you can move into a richly rewarding ministry to the fatherless and the orphan.
The course work is based on New Hope Uganda's 15 years of experience in applying the Word of God to the practical issues of life and ministry to orphaned children in Uganda. Key lecturers will be brought in from several countries to highlight certain topics augmenting the teaching of New Hope Uganda staff. Lectures will cover a range of topics essential to effective ministry. Each day there will also be opportunities to be involved in one of a variety of practical experiences and real life ministry opportunities.
Location
The course work takes place at New Hope Uganda's Kasana Children's Centre (KCC) in the heart of Uganda. There, many war orphans and AIDS orphans are coming to know the Fatherhood of God through salvation in Christ and the love of the Kasana Family expressed "in action and in truth". NHICF students will live, study and work in the middle of the Kasana Family community. This on-site experience will add to the overall training, giving the students a 24-hour-per-day look at this ministry.
The Students
New Hope Institute of Childcare and Family will be open to students from any nationality who love the LORD Jesus Christ and who can subscribe to the Statement of Faith of the Institute. Students must be 21 years of age and fluent in English as lectures will be conducted in English. Apart from that, the main qualification is a clear sense of God's calling to serve Him by "bringing the Fatherhood of God to the fatherless." (Ps. 68:5 and 6)
Accommodation
In keeping with the training goals, the accommodations are clean, neat and rustic in the form of grass-thatched huts with brick walls and a concrete floor and facilities out back. This is the kind of housing provided for the children at the Kasana Children's Centre. Each but will have basic furnishings to accommodate four students or a married couple. Meals will be served in a common room.
Curriculum Outline*
The Bible as the Foundation
Bible Interpretation
A biblical worldview
Fatherhood and Family
The Fatherhood of God
Biblical view of human fatherhood
Biblical view of motherhood
Biblical view of family
Biblical view of Parenting
Courtship and marriage.
Theological Essentials
The Triune God and His attributes
The Deity of Jesus Christ and His role
The Holy Spirit and His Role
The state of sinful man
Salvation by grace
The Kingdom of God
The Resurrection from the dead
The Judgement
The Body of Christ and the unity of the Believers
Ministry Essentials
Prayer
Discipleship
Communication
Relationship, teamwork, and accountability
Christian Counseling
Christian Education
Strongholds
Culture
Righteousness
Practical Issues
Sponsorship programs
Programs
Intake procedures
The role of the local church
Goals and strategy in biblical childcare
Distinctives of biblical childcare
Community relationships
Child advocacy and influencing legislation
Appropriate agriculture for the tropics
The history of New Hope Uganda
Practical Experience
Agriculture
Management and administration
Sponsorship program
P7 Week
Holiday programs
Construction
Education
Health education and first aid Course structure subject to adjustment
Needs of the fatherless
"17 million Africans have died since the AIDS epidemic began in the late 1970's, more than 3.7 million of them children. An additional 12 million children have been orphaned by AIDS. An estimated 8.8% of adults in Africa are infected with HIV/AIDS... " (Time Magazine, February, 12, 2001).
Around the world, the number of fatherless, orphaned, abandoned, neglected, and hurting children is growing at an alarming rate. Wars, disease, natural disasters and social turmoil are destroying families and tearing children from the arms of those who should love them, care for them and raise them up.
How tragic for each child left alone. How tragic for the societies in which these children are left to roam uncared for, untrained, undisciplined and unloved.
On top of the tremendous pain they have already suffered, the fatherless children often face many kinds of mistreatment from the communities in which they live. Often their land and property is confiscated and the undefended children have no known recourse. They are used for menial labor with no just compensation or are abused and taken advantage of in unspeakable ways.
In the world's eyes, this is a hopeless tragedy. But... by the grace of God and the valiant actions of His people, this hopeless tragedy can be transformed into an unprecedented opportunity to reach children for the Kingdom of God for the generations to come.
"Therefore pray the Lord of the harvest to send out laborers into His harvest" (Matthew 9:38).
Are you called to be one of those laborers?
The mission of New Hope Institute of Childcare and Family is to multiply the number of men and women of God who can effectively bring 'the Fatherhood of God to the fatherless' children of the world. By envisioning, training, and networking, NHICF will equip God's people to work with this generation of fatherless, who will in turn give to others what they have freely received.



New Hope Vocational Institute
The educational process of many older children has been interrupted by poverty and family tragedies. Many in their mid-to-late teens have not even been able to finish primary school and have little hope as they loook into their futures. Other youn people are just not academically inclined and would like to have a trade. The New Hope Vocational Institute (NHVI) was created for just such young people.
Today fifty boys and girls between the ages of 15 and twenty are bein given hope for the future as students in one of NHVI's two year vocational programs. There they rear the Gospel, are helped to have a biblical worldview, learn about biblical fatherhood, motherhood, and family, and are trained in one of the following trades: carpentry, masonry, tailoring, auto-mechanics, and metal-fabrication. In the future, we hope to add other trades, such as agriculture, animal husbandry, weaving, cobblery.
When students complete their course of training, they receive as a graduation gift, the tools of their trade. This is a great help to them as they move into adulthood and begin to provide for themselves. Many of the graduates of NHVI are now successfully using their training and tools and are productive members of their communities.